Profile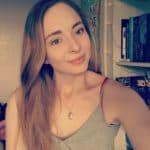 Emma Gale
Curriculum Vitae
Education:

University of Oxford, University of Birmingham

Qualifications:

MSc Sleep Medicine, BSc (Hons) Human Biology, A Levels- Human Biology (A), Physical Education (A) and Mathematics (B), 15 GCSE's.

Work History:

University of Oxford

Current Job:

Postgraduate Student
Favourite thing to do in my job: Interact with patients

About Me

22. MSc Sleep Medicine student at the University of Oxford. Badminton player. I live to travel.

Read more

I am a scientist originally from sunny Yorkshire in the North-East of England. I studied in Hull until the age of 18 and moved to Birmingham and then Oxford to pursue my dreams in becoming a world-renown scientist. Whilst at university I learnt a lot of valuable skills but most importantly I have met friends for life!

I am a professional Netflix series binge watcher and can quote every episode of Friends!I play a lot of sport (sometimes too much!), I train at the gym once a week, train badminton three times a week and play matches twice a week… with the odd tournament on top at a weekend!

My Work

Sleep Scientist

Read more

Below I have listed my University courses, what modules I took and what my dissertations have been on. I am currently a student at the University of Oxford.

University of Oxford – MSc Sleep Medicine (2017- 2019)- Predicted: Distinction
– 1st year (Distinction)- Physiological Basis of Sleep, Methodological Approaches to Sleep Medicine, Circadian Rhythm Disruption and Sleep, Insomnia, Scientific Method and Research Design, Lab Experience (incl. tests such as PSG, EEG, pulse oximetry, MSLT, a range of questionnaires, vulnerable patient care and sleep and general history recording).
– 2nd year- Sleep Disordered Breathing and Sleep-related Movement disorders, Hypersomnias and Parasomnias, Sleep in Specialist Populations, Sleep and Society, Handling Data and Research Dissemination.
– Dissertation: "The efficacy and effectiveness of primary circadian therapies as a treatment for poor sleep quality in Parkinson's Disease". My dissertation is being done under the supervision of Dr Nicola Barclay and Dr Russell Foster at the Sleep and Circadian Neuroscience Institute at the University of Oxford. The dissertation is split in two halves; the first being a systematic review of 8 papers found with meta analysis and the second being a research proposal based on the findings.

University of Birmingham – First classification BSc with Hons in Human Biology (2014-2017)
– 1st year- Genetics, Human Biochemistry, Evolution and Animal Biology, Cell Biology, Microbiology and laboratory skills.
– 2nd year– Genetics II, Cell Development, Medical Biology, Human Evolution, Human Anatomy and Physiology
– 3rd year- Genetics III, Human Reproductive Biology, Human health and disease, Human Evolution
Final year dissertation: "Circadian rhythms in neurodegenerative disease." My dissertation was under the supervision of Dr Roland Brandstaetter, a circadian researcher. My research looked at the initiation of circadian rhythm disruption in Dementia (D), Parkinson's Disease (PD) and Alzheimer's Disease (AD) patients relative to clinical diagnosis in comparison to controls. I collected primary data from the public and collated using GraphPad Prism and non-bias testing. My primary data consisted of medical histories, diagnostic tests for PD and AD, RBUB circadian phenotyping questionnaires and sleep disorder questionnaires (Insomnia, Hypersomnia, parasomnia, obstructive sleep apnoea, restless leg syndrome and nocturia). Further statistical testing analysis using IT statistical software allowed me to report my findings using academic journal writing. Looking into the future, I have clear ideas of how this study could further develop throughout PhD study.

My Typical Day

The day in the life of a multi-tasker

Read more

0615 Wake up- Snooze alarm a couple of times!!

0645 Check social media, get showered, dressed, have breakfast, make-up and hair whilst listening to the news.

0730 Drive to work

0800 Start my day- Delivering in schools eg a session on Pathways in STEM and a HE student finance and HE student life activity.

1200-1300 Break for lunch with my work colleague- a bowl of soup and bread roll is always a winner!

1300- Back to work! More schools delivery and prepping.

1600- Log out, time to study!

1600-1900 Listen to lectures, seminars and work on my dissertation. (Not forgetting my dinner!)

1900-2100 Time for sport! Badminton match or trip to the gym!

2100 Shower and rewind before bed- bath and a good book. (Sometimes a bit more work if I am on a deadline!)

2300 Light out! Goodnight.

What I'd do with the prize money

A series of workshops held at the University delivered by myself and other experts in the field.

Read more

A series of workshops to engage the general public as well as students. Open to the community I would run a series of lectures and workshops on STEM pathways, choices and career options post HE qualifications. It would run over an academic year (once or twice a month engagement).

I work for the University so cost of hiring would be limited so the money would go towards resources for activities eg printing and that of legacy resources for sessions so people can take away information from the sessions.

I currently work on a programme that is government funded and I am trying to complete this in schools (I have 12 schools in the area who are getting pathway talks in science, engineering and mathematics, as well as HE journey talks from alumni of their schools). I want to engage parents and invite the general community to campus to use the amazing facilities and dedicated staff we have here.

My Interview

What's the most important thing about sleep?

Consolidation. Quality. Your love for sleep!

How would you describe yourself in 3 words?

Determined. Friendly. Multi-tasker.

What's the best thing you've done in your career?

Got to work with world renowned scientists at the University of Oxford

What or who inspired you to follow your career?

My supervisor from the University of Birmingham (Dr Roland Branstaetter)

What was your favourite subject at school?

Science

What did you want to be after you left school?

Doctor/Scientist

Were you ever in trouble at school?

No (Teacher's pet over here!)

If you weren't doing this job, what would you choose instead?

Teacher

Who is your favourite singer or band?

Imagine Dragons

What's your favourite food?

Pasta

What is the most fun thing you've done?

Solo travel to different countries

If you had 3 wishes for yourself what would they be? - be honest!

To be taller. To be able to travel anywhere for free. To discover a cure for Parkinson's Disease

Tell us a joke.

Why can you never trust atoms? A: They make up everything!
---
---