Profile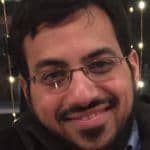 Yousef Alqurashi
Curriculum Vitae
Education:

Dammam University for my bachelor degree, Texas State University for a master degree, and currently at Imperial College London for doctoral degree.

Qualifications:

BSc in Respiratory Care, MSc in sleep medicine, and currently doing a PhD in Respiratory and Sleep Medicine.

Work History:

I initially worked in Saudi Arabia for a while, then I worked as a sleep specialist for the past 7 years.

Current Job:

Doctoral student and sleep specialist.
Favourite thing to do in my job: Treating patients with sleep problems

About Me

A man who help the world breath at night

Read more

My name is Yousef, and I live (temporarily) in London. I am currently in the last year of my doctoral degree (soon to be a doctor :). I am married and have a daughter (5 years old now). When I'm not at work, I usually read a book, play football or travel with my family. I am in love with science and I like to promote science to the public. One of my dreams is to help poor people get into science.

My Work

Sleep researcher

Read more

My work involves helping people with sleep problems. One of the things that I usually do is going to my patients home and do something called "sleep study". A sleep study is a procedure we do so we can make sure if someone has sleep problems or not. The sleep study will tell us if someone is awake or sleep, and if he/she is sleeping well or not.

My Typical Day

Between university and home.

Read more

I spend most of my day at the office. Then I go to home where I enjoy some time with my family, including playing and reading to my daughter. In weekends, I usually go out and discover London or sometimes I go to the country side enjoying the snow in the winter and the sunshine in the summer.

What I'd do with the prize money

I would like to spend this money to improve our website WWW.SleepImperial.com

Read more

If I won the prize money, I will use it to improve our website: www.sleepimperial.com . This website was one of our initiatives at Imperial College to help promote sleep education for university students and staff – nationally and globally. The current version of the website is modest, and I with my colleagues at Imperial College would like to improve the website so it can have a variety of videos and images. We also want to improve the design of the website; make it a mobile-friendly, and finally make more contents on the website. This prize money will help us achieve these goals.

My Interview

How would you describe yourself in 3 words?

Passionate, discipline, and perfictionist

What's the best thing you've done in your career?

I have once saved a person's life in the intensive care unit at the hospital.

What or who inspired you to follow your career?

One of my university professor, his name is Dr Ghazi

What was your favourite subject at school?

Physics

What did you want to be after you left school?

Engineer

Were you ever in trouble at school?

No, I was weirdly quite student :)

If you weren't doing this job, what would you choose instead?

Not sure, but may be a teacher.

Who is your favourite singer or band?

I'm not big fan of music, I'm more in love of art and poetry

What's your favourite food?

Thai food

What is the most fun thing you've done?

Sky diving

If you had 3 wishes for yourself what would they be? - be honest!

Ooh, well, I wish I can be a bussiness man one day so I can travel around the world. I also wish I can help poor people get into science. finally, I wish I can own a sleep business one day.

Tell us a joke.

Why did the boy bring ladder to the school? He wanted to go to high school :)))
---
---